A Pure & Complete Traditional Kung Fu System
Our Kung Fu training will keep the body in a state of premium health, creating longevity and increased levels of performance.
White Tiger Schools is a company that cares about the well being of the world. We provide an alternative martial arts fitness lifestyle to the public – a pure and complete traditional Kung Fu system that develops optimal internal energy, as well as external movement, speed, and power. Our Kung Fu training will keep the body in a state of premium health, creating longevity and increased levels of performance as you learn Kung Fu self defense techniques and traditions. At this Kung Fu School, our goal is to have the relationship between teachers and students be one of patience, care and compassion. This will inspire us all, developing a foundation for personal growth in all areas of life, as well as providing aliveness, confidence and success to every person we serve.
Grandmaster Doo Wai
For six generations, White Tiger Kung Fu has been passed from father to son, ending finally with Grandmaster Doo Wai, who has decided to make the art available to the public. Aside from holding the esteemed title, Grandmaster Doo Wai serves as a technical advisor on martial arts-related feature films and served as the Grand Juror of the San Diego Asian Film Festival. A Chinese historian and scholar, Grandmaster Doo Wai has been on the cover of Inside Kung Fu, Ancient Sets of Kung Fu, and Karate Kung Fu Illustrated.
Shi Gung Tom Rizzo
A martial arts student since the age of six, Tom Rizzo has studied a full range of martial arts including Karate, JuiJitsu, Judo, Tae Kwon Do, Aikido, and Kempo. Tom has been teaching since 1990, and has studied with Grandmaster Doo Wai since 1991. Rizzo, a highly decorated former federal agent, was a certified defense tactics instructor for the U.S. Department of Justice, teaching federal agents to fight in hand-to-hand combat.

Sifu Dennis Wood
Dennis Wood started his martial arts training with Kempo in 1988. Four years later he began studying Bak Fu Pai under Sifu Tom Rizzo and Grandmaster Doo Wai. He has since been a closed-door disciple of the Grandmaster. Dennis is a veteran of Operation Enduring Freedom where he served his time as a combat engineer. He is currently the chief Kung Fu instructor of the Westwood school and a lead member of Team White Tiger MMA.

Sifu Anton Peterson
Anton Peterson spent the early years of his life in the Seattle area of Washington State where in 1985 he started training in Okinawan-style Karate. In 1990 he moved to Tucson, Arizona with his family where he continued his martial arts training in Shirin Ryu, which is a style of karate that is closely related to the Okinawan system he originally learned. In 1993 Sifu Peterson moved to California to study music, which besides martial arts is one of his lifelong passions. At this time, he also began training in the southern kung fu system of San Soo, which is closely related to the White Tiger (Bak Fu Pai) system. He began to teach private sessions as well as group training in street defense designed around San Soo techniques. In 2002 he began closed door training in Bak Fu Pai under the tutelage of Shi Gung Thomas Rizzo. He currently holds a 5th degree black sash in this system and teaches at the Westwood school location. In addition to his formal martial arts training, Sifu Peterson has extensive experience working in security for nightclubs and bars as well as doing personal bodyguard work. During this time he was able to apply his martial knowledge in real life situations that have served him well as life lessons and practical martial arts training.

Sifu Jim Hagadone
Sifu Jim Hagadone began training Wing Chun Kung Fu in 1994 with renowned instructor and film fight choreographer Eric Oram . Sifu Jim assisted Sifu Oram running classes and eventually  earned his Level Ten Gold Sash certification in 2007.  Sifu Jim took the reins at the Academy while Oram was abroad working with Robert Downey Jr. on Sherlock Holmes, Iron Man and other projects. Oram retired from full time teaching to focus on film & television fight & action choreography and private clients, Sifu Jim carried on the public group training opening his own kwoon Eternal Springtime Wing Chun in 2013. Sifu Hagadone has had the privilege of also training with his Si-Gung , Grandmaster William Cheung, Master Phil Redmond and many senior instructors in the Cheung lineage as well as top students of Sifu Gary Lam, Hawkins Cheung , as well as sessions with ground fighting masters Gene LeBell and Gokor Chivichian and kick boxing with Benny the Jet Urquidez.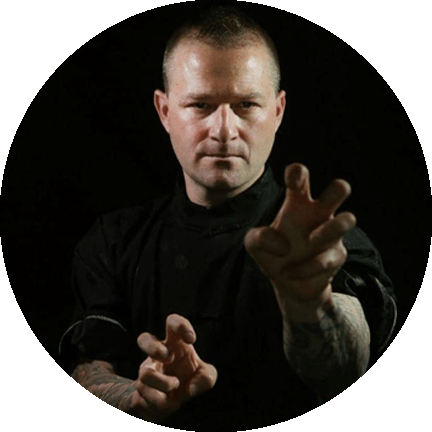 Sifu Dane Tobias
Introducing Sifu Dane's Bak Mei Kung Fu School, an advanced system of martial arts that focuses on intent and developing ging (shock power) and yau gong (flexible power). Sifu Dane has been on a journey of self-discovery and mastery of martial arts for many years, beginning at the age of 31 under the tutelage of his master, Shifu Angelo Clori (Shi Xing Kai Yin).
Shifu Angelo Clori is a 32nd generation disciple of the Cao Tung Chaa'n Tradition and trained in Mizhong quan fa, Cao Tung Shaolin martial & qi gong, TCM, meditation, health & wellness. Sifu Dane's lineage can be traced back to the Mi Zong Chi fa Chuan, the highest priest abbot of northern and southern China and also Shaolin Temple
Sifu Dane's journey in martial arts took a new turn when another door opened for him. He was fortunate enough to start training under Grandmaster Sifu Garry Hearfield in the Ngor Mei Shan Bak Mei Pai Kung Fu system inherited from Grand Master Doo Wai. This white eyebrow Kung Fu is an extremely explosive and short-range fighting system (HAKKA) that is only found in this Bak Mei Pai.
Sifu Dane's Bak Mei lineage can be traced back to the Doo family, where he is the 8th generation from Bak Mei Dao Yun. He would not have been able to achieve all this without the guidance of Shifu Angelo Kai Clori, and he wishes to acknowledge and give recognition to his

Coach Blair Green
Blair Green heads up the Wrestling and Grappling program at White Tiger Schools. He also enjoys coaching the BFP Fight Team. He began his wrestling career at Victor Valley High School where he was part of the California State Championship team, and was an individual placer and State Champion. Green went on to earn the distinction of 1st Team HS All-American. He wrestled at the University of Oklahoma and help create Lindenwood University's wrestling program, where he was an All-American. Blair is currently the Director of Grappling for USA Wrestling in California. He is a member of the Associated styles committee Nationally and works closely with the international governing body United World Wrestling. Green is committed to developing quality individuals through wrestling and grappling.

Jou Gau Michael DiQuinzo
Michael DiQuinzio is the Director of the Kids and Youth Program at White Tiger Kung Fu. His impressive competitive pedigree includes an undefeated amateur MMA record with 2 stoppages, including Epic Fights' Submission of the Night. He won NoGi Grappling Gold as the Absolute Purple Unlimited class at the NABJJF LA Open. Along his martial arts journey DiQuinzio has achieved mastery of Iron Palm Level 1 and Three Star procedures. He became a QTC Level 4 certified instructor and achieved a life-long goal of earning his Black Sash in 2017. DiQuinzio's training outlook makes him uniquely qualified to lead and impact our youth. In addition to the technical and competitive achievements his student gain, Michael believes that life skills and connection to fellow students is the greater accomplishment. "Training is a time when everything quiets down, we get to focus on this…It's special to watch them train and interact without a game or a phone in their hand…them make real world connections and real friendships"

Jou Gau Jay Hawkins
Originally from Detroit Michigan, Jay Hawkins started training in Shotokan Karate at the age 13. After attaining the rank of Black Belt in 2012, he began perusing a career as a Hollywood stunt actor in California where he blends traditional martial arts with performance style film fighting. Jay has performed for Power Rangers, Into the Badlands, Nickelodeon's Supah Ninjas, and with musical artist Kendrick Lamar. Hawkins teaching method for over ten years has been focused on detail orientation, partnered with high energy to keep students engaged and excited. As he continues to train for his black sash, Jay works as the Director of the Kids and Youth Program at White Tiger Kung Fu. "I have experienced the transformative powers of martial arts at a young age. Teaching the culture, performance, and practicality of the arts has turned into my life's work. I aim to translate all that I know to as many as I can; to children and adults alike."