MMA Competition Video 01/17/2015 – Victor Vorgar vs Cody Halleman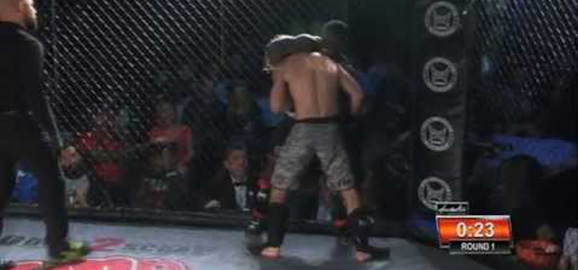 Team White Tiger Fight Night
Spar Star MMA Event
Hollywood Park Casino
January 17, 2015
Victor Vorgar vs Cody Halleman
Team White Tiger Victory!  The evening was a resounding success for the fighters, coaches, fans and our school!  It turned out to be a fantastic week of pre-fight activities with the Dragons and Tigers, qigong, open training sessions and culminating with two exciting bouts – it doesn't get any better than that!
Fight Night Results
It was a night of undisputed fun, great friends and all out competition.  All of the fighters represented themselves and their schools with honor.
In the Featherweight fight Victor Vorgar vs Cody Halleman (Team: OC Muay Thai) all 3 judges had it 30-27 Unanimous Decision victory for Cody.
Open Workouts
Leading up to his MMA competition, Cody cut weight, trained hard and set up a game plan with his coaches Sifu Dennis Wood and Coach Blair Green (NCAA All-American).  In addition to sharing the excitement and experience with the Dragons and Tigers,  Cody also made time to open several of their workouts to the adult students, allowing everyone to share in the strategizing and technique refinement that goes into preparing for an actual bout.  Sifu Wood also welcomed the contribution of fellow student and Jiu-Jitsu ace John Radzik.